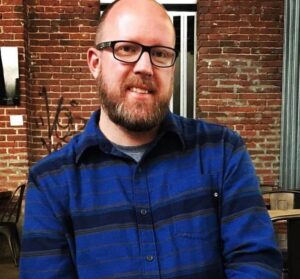 I'm a sports guy. I'm also a voracious reader, and writer. All of these attributes came straight from the ol' parental units. Those, along with a desire to build my own path, one footstep at a time. My mom was a world-class figure skater who toured all over the world with major companies, and was a skating cheerleader (yes, there was such a thing) for the powerhouse University of Denver hockey team in the 60s.
She went on to teach figure skating at our local rink, and has made an indelible impression on thousands of young people by running a children's theatre program in West Texas for close to four decades, shaping young thespians of all sizes, shapes, and colors.
She was always her own boss.
That stuck with me.
My dad is a twice-published author who won a 1A Texas High School State Football Championship in 1961 (not an easy feat around these parts), played some college football (badly, he might add), and protected the interests of small-scale oil producers and royalty owners in the Texas and Oklahoma panhandles, Eastern New Mexico, and Southern Colorado for close to two decades.
Prior to that he worked in media, as a television weatherman – chasing tornadoes all over Tornado Alley much to my mom's chagrin- a radio DJ and for the local Chamber of Commerce. He's a renaissance man, no doubt about it.
One who has deep interests, and can turn a woodworking wheel as easily as he can turn a phrase, or do a voice over for that newly-minted audiobook you just finished.
They're the best parents a guy could ask for.
Both my mom and dad instilled a love for reading and the written word, and supported me 100% throughout my young life. This included endless trips across the state for summer basketball and baseball tournaments and camps.
Countless early mornings.
Washing plenty of stinky jerseys.
Shelling out too much money to cover all the costs associated with that "summer travel sports" lifestyle.
I tell ya, they're saints.
When I wasn't on the road, I was with friends playing whatever sport, under the hot Panhandle sun until the sun went down. We rode bikes everywhere. Ate a lot of junk food, but ran every bit of it off. To think I used to complain about not being able to gain weight.
Hilarious.
There wasn't a day that went by where I wasn't reading a book or playing in the sun, or at the pool. Those summers, and those early years were beautiful.
They shaped my character, and made me realize anything was possible.
I was a jock.
No doubt about it.
But a jock that crossed party lines, if you will. An ambassador.
Sure, I had plenty of friends that played sports and would have been considered the "popular kids", but also friends that played guitar, were in the theater, were great artists, and loved to hunt. I went to a high-school in the middle of our moderately-sized city of Amarillo, and studied with folks from all walks of life – from the richest of the rich, to the destitute poor who could barely make ends meet.
High school didn't challenge me, with a few notable exceptions. I had a US History teacher in the 10th grade that was very difficult, and made me realize for the first time that not everything would, or should, come easy academically, or in life, for that matter.
He pushed us and pushed us, and most of us hated him for it.
Looking back, I appreciate he did.
I had an English teacher as a junior (ironically, his name was Mr. English) that further solidified my love for reading and writing. He knew I was cruising through his class. One day, unprompted, he asked me after class if I would like to read some other books he didn't normally teach. My answer was obviously yes. His suggestions here – classics like Farenheit 451, Brave New World, Catch 22 and One Flew Over the Cuckoo's Nest – had me hooked.
I finished high school as an honors graduate. I was lucky enough to be an honorable-mention McDonald's All-American
in basketball, and had the chance to play at the college level for a little while. I left Amarillo to play basketball and study at two different colleges in two years, flailing around aimlessly with no idea what to do next. I knew I wasn't playing in the NBA – ooh, shocker – but was clueless about what I wanted to do with my life.
I ended up finishing school at the University of North Texas, and worked the following awful jobs over the next two and a half miserable years:
1. Three months as a cold-calling robot for a tech recruiting firm. Fired.
2. Six months as a recruiter for a home security company. Made some serious money and thought I was about to take over the world. Wrong. Here comes the .com crash. Laid off along with 100% of the company's support staff. Back on the street.
3. Worst of all, 18 months with a rental car giant that starts with an E. Absolute misery.
Pro tip: Never, ever, ever, work for a rental car company. EVER. I don't care how bad things get. Ok? Never, ever.
So, after all this carnage I figured, more school.
Why not?
At the outset of my career, I had zero thoughts of working in content or being able to write for a living. In fact, I earned a Master's Degree in Sports Management from the University of Texas with the full intent of working in the world of professional sports.
After a few internships and flirtations with the worlds of corporate sales and scouting, I quickly realized heading down the path of long hours and low pay was not for me.
I'm not a sales guy.
That's for sure.
After a few years of slogging away as a research analyst for a healthcare subcontractor – a job which had a substantial but archaic content element – I realized I wanted writing to be a much bigger part of my day-to-day in the future.
No one was around to teach me how to start a blog, however, so I realized self-learning was the only way to get the ball rolling.
I learned how to write, create content, and develop content strategy flying blind with no co-pilot.
Self-directed learning can be commendable, sure, but it's also a tough road full of plenty of unnecessary twists and turns I wouldn't recommend to anyone else given there's a concrete difference between right and wrong.
There's a much better way to approach it.
Fast-forward a few years to 2010. Three years into the day job in healthcare, and after countless hours reading about the exploding world of blogging – in particular, sports blogging – and pondering how I could get involved, I took the plunge and started my own network of blogs, called the FanAttic Network (I know, so clever, right.)
I built my first WordPress blog from scratch, following the advice of articles I could dig up on Google, and patching together training on, creating audience personas, design, SEO, and traffic acquisition from wherever I could find them.
What an incredible learning experience.
I stumbled and floundered along the way, but through some determination and hard work, eventually built a network of four sites which was acquired by another media network in 2012.
Working for that network for two years – at nights and on weekends, y'all – while still holding down the full-time day job, I realized just how deep the content rabbit hole goes. I learned a ton about developing partnerships, acquiring traffic (both organically, and by spending a little dough), scaling a writing team, team management, and building out models for revenue and writer compensation.
I also became a regularly published writer on college football – appearing in several national publications, both print and digital – because, sports.
Those weeks, for those two years, were some of the longest I've ever worked, but the takeaways were incredible and set a foundation that led to my first full-time opportunity in digital media.
Well, Hmmm. I Wrote Myself Out of Writing. Briefly.
For four years from 2014-2018 I worked for a digital publisher here in Austin, wearing every hat under the sun. I joined the company as employee No. 7 in 2014, and went on to manage a team of seven content creators, social media managers, and partnership managers by the time I was done.
My biggest achievement there was growing a partnership program from scratch that eventually was driving over 3 million unique visits to the network's five websites (35% of the total monthly traffic base), by the spring of 2018. I also managed a monthly paid media spend of over $50,000 to drive traffic and fulfill obligations we had promised to our advertising clients.
It was an exhilarating, but stressful time in my professional life.
The irony was this: As I was managing content creators, social media managers and partnership managers I wasn't writing one word myself. Sure, I was creating some social media posts here and there, but no articles. None. Being a writer at heart led me to the point where I had written myself out of writing.
How ironic. Regardless, I learned a ton about how content should be positioned, understanding your audience, and overall content strategy that's the core of what I do today. As these things go, I was laid off in April 2018 as our company – as well as it was doing – wasn't immune to the digital media bloodbath that was going on around the country.
(Side note: That company was recently a part of an eight figure acquisition deal.)
I worked in a couple more full-time jobs between 2018 and early 2020, but now work as a contractor and consultant full time.
This is where I am today, and I'm building my consulting and coaching business to help people avoid my pitfalls.
Some old habits (but good ones) die hard.
Content Doesn't Have to be Complicated.
I'm writing again, getting back in the flow, and devoting my time to build and help as many people as possible avoid my misadventures in content, blogging, and personal growth.
Most of all, I want to help people eliminate the guesswork and mystery that goes into developing a content strategy and activating that strategy to make content a growth engine for your business.
See y'all on the other side!