As you dig into creating new content for a blog or website, you need to work with the right content tools.
There are a ton of these on the market. The companies behind these claim each offering is revolutionary. You don't need revolutionary tools; but you need functional tools that make content creation, content marketing, and content distribution impactful parts of your overall content strategy.
The right content tools help you with four stages of the content process:
1. Content Curation
2. Content Creation
3. Content Calendars, and
4. Content Marketing
Let's check out the best tools for each of these stages.
The 5 Best Curation Tools on the Market
Content curation is the process of handpicking content your audience will enjoy and adding a unique voice to the content. Curation is impactful for social mediums where you bring your voice to the table consistently. Free tools are a great place to start as you ponder how to start a blog. The right tools depend on stages. As you're getting started, free or freemium tools are fine. Later, you may need paid tools that allow for heavier lifting.
These five free content curation tools stand apart from the pack:
1. Flipboard
2. Scoop.it
3. Pocket
4. Instapaper
5. Feedly
Flipboard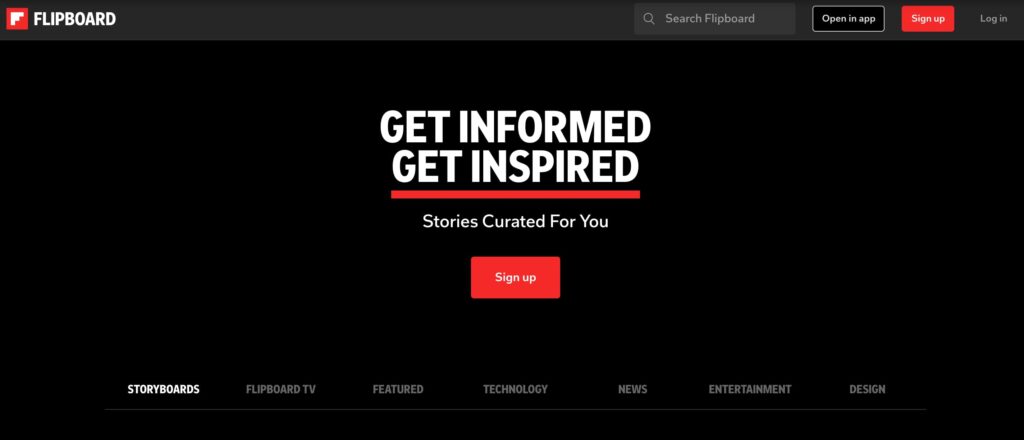 In my opinion, Flipboard is not only a great curation tool but generally one of the more underrated tools available. Flipboard allows you to curate content on your personal "board" that aligns with your interests and reading habits. Its machine-learning algorithm builds wonderful tailor-made pages. Flipboard's user experience is seamless between mobile and desktop applications, making it easy to use when you have a few minutes to check out stories. The content curation tool is best-suited on tablets as the interface fits there most naturally.
Scoop.it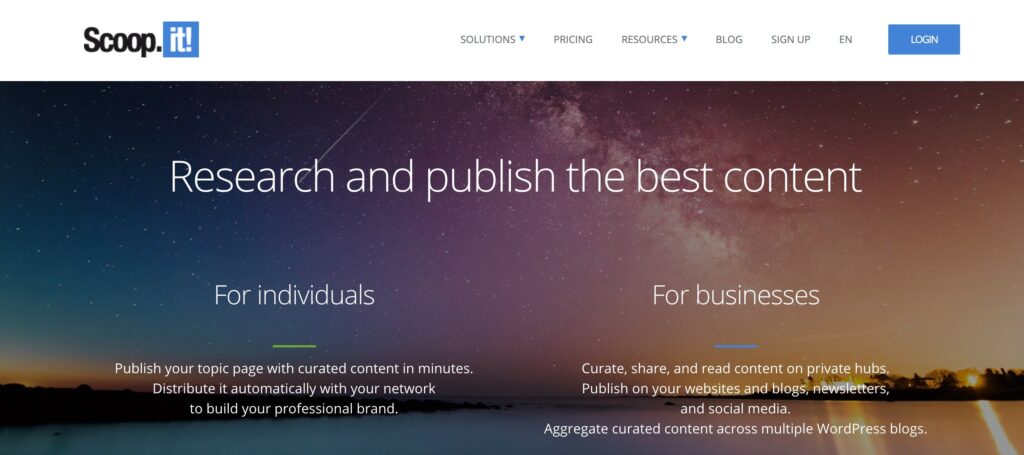 Scoop.it is different from Flipboard because it also has a publishing element. You can publish a landing page on your website or blog with content curated by Scoop.it. This feature is fantastic! Especially if you can't create new content on your topic consistently. Or, if you can, but still want to be a hub for breaking news or exciting stories.
This curated content is fed right to your social channels. It can also be leveraged as a part of easy-to-build newsletters to send your email subscribers.
Pocket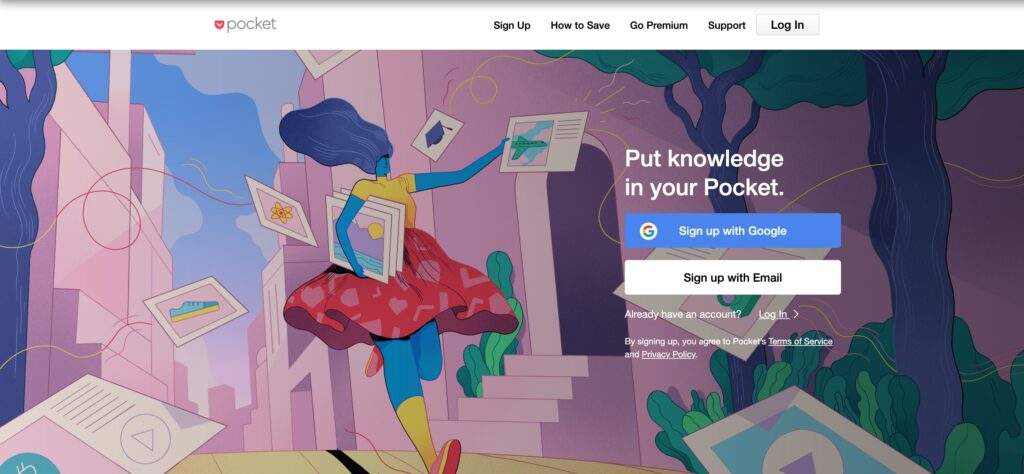 I've been using Pocket for a while. It's a fantastic way to save articles on the fly I want to read later. Pocket is a website and browser extension that naturally plays well with Chrome, but is also built directly into the Mozilla Firefox browser. When you find an article you don't have time to read, but would like to save for later, click on the Pocket extension. Pocket keeps the link so you can check it out when you have time.
If you like to stay on top of the news, it's a fantastic way to save articles from your favorite resources to batch read quickly.
Instapaper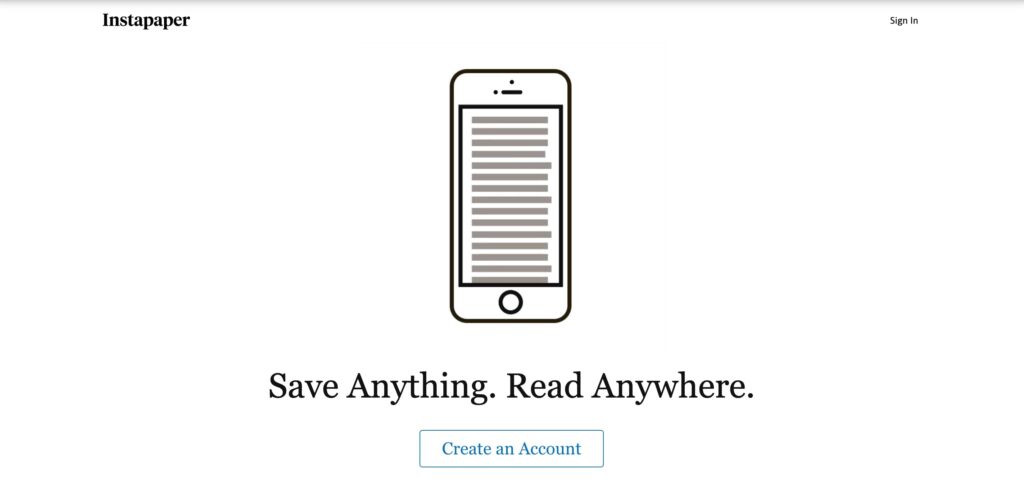 Instapaper is similar to Pocket but has some unique differences. Instead of saving full articles to read later, Instapaper also allows you to clip out specific text sections. You can also highlight text sections within an article when you browse, so those stand out the next time you check that piece out. Instapaper was custom-made for devices running on the iOS platform, so changes you make on one device sync to all other iOS devices.
It works with Android-enabled devices as well but is most natural with iOS. Pretty cool.
Feedly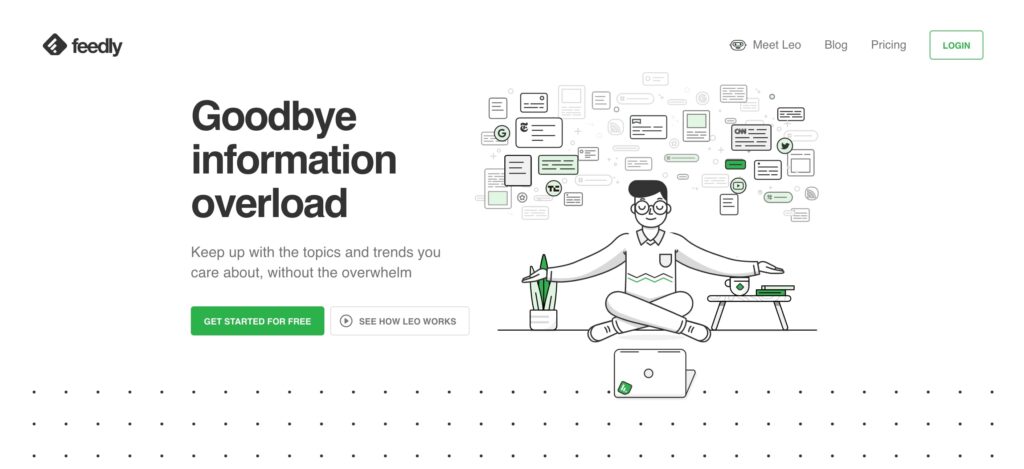 Last but hardly least, there's a content curation tool with old-school cool, Feedly. Feedly allows you to pull links from specific topics or writers into a unified feed you can scroll through any time.
I use Feedly to see what's going on with content strategy, SEO, and content marketing by skimming headlines. It's also useful to get over writer's block when creating social posts or thinking about potential blog topics. Feedly pulls articles from resources you choose, so it's simple as refreshing the feed to see what's new. Like Flipboard, Pocket, and Instapaper, a browser extension allows you to save articles to your feed the algorithm misses.
Now that you have content curation tool options, pulling together thought leadership content for your social media and blog audiences will be a breeze.
3 of the Best Content Creation Tools Available
Gone are the days of depending on a simple word processing tool like Microsoft Word. If using it still floats your boat, by all means, continue. It's far from your only option when so many fun new tools are now available.
I use the three tools religiously for each article I write:
1. Ommwriter
2. Grammarly
3. LSIGraph.com
Ommwriter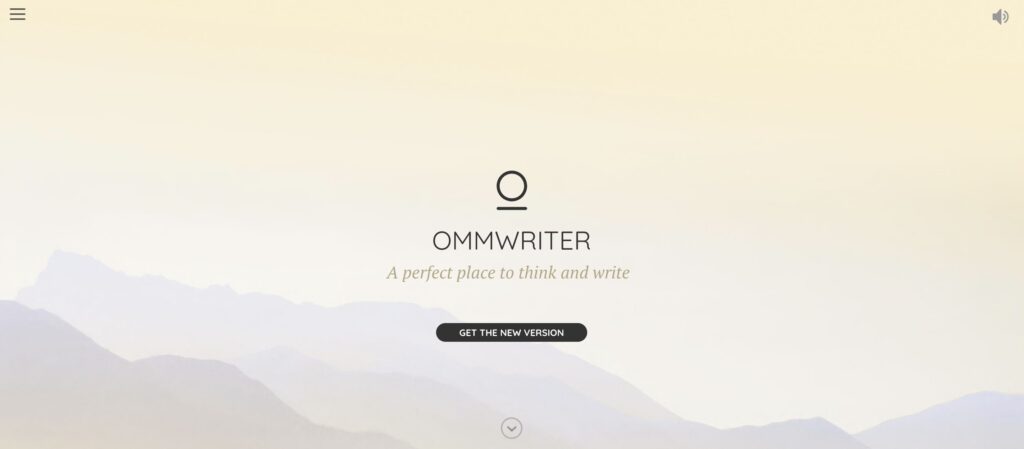 Ommwriter has been one of my favorite finds of 2020. It's not new and has simple but stylish UX, but there's something about the effect it can have on your writing. I'm writing this draft on Ommwriter and flying through it due to these cool features:
1. I love the chime tones you can choose, which replace keyboard clicks. With headphones on and volume up, the tones get you in a zone that makes words flow from your fingertips.
2. The options for background music are soothing and help with this "zone state."
3. The custom background options are fun to experiment with so you have a background setting matching your mood.
I strongly recommend Ommwriter to anyone who writes daily and needs full focus. It's an absolute steal at a one-time fee of $8.
Grammarly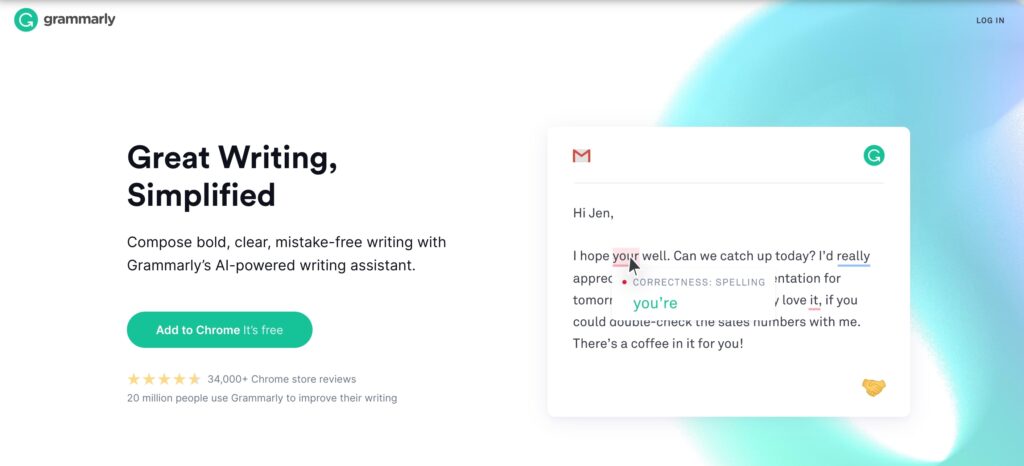 Grammarly is top-notch when it comes to editorial tools. I write the first draft of my articles in Ommwriter, knowing I'll be able to use Grammarly to clean up the draft before moving to WordPress. The best thing about Grammarly is it helps you recognize your negative patterns and develop self-correction ability. I've found my writing flows much better than it once did by using the tool daily.
The free version is solid and offers you basic functions. But it's worth springing for the monthly $30 subscription if you write or edit daily as part of your workflow.
LSIGraph.com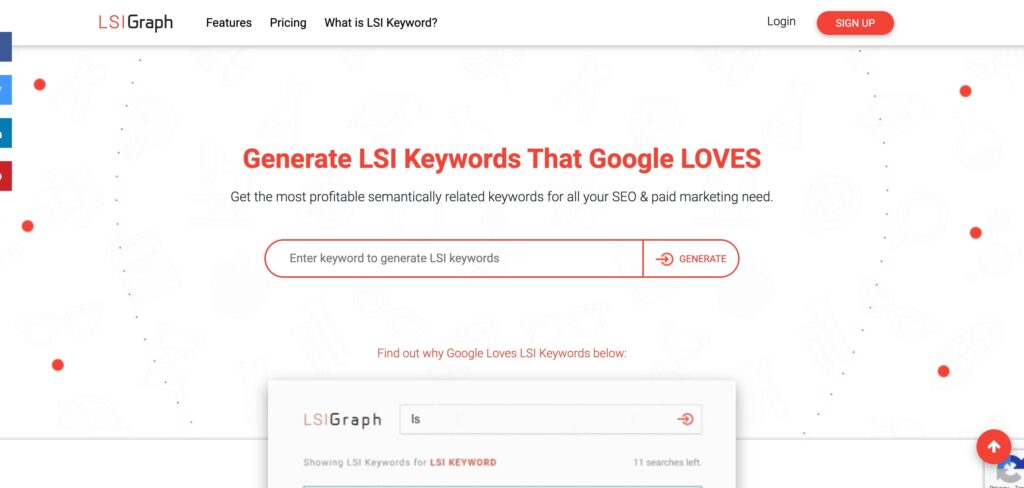 There's one website always open in a browser tab — LSIGraph.com. Latent semantic index (LSI) keywords are natural variations of the main keywords you use when writing an article.
LSIGraph.com helps you search a primary keyword and see synonyms to sprinkle into articles as you write. If you do this consistently – and naturally – Google sees your content as in-depth and authoritative. LSIGraph.com is free for a limited number of searches, and I've never reached the number of searches necessary to have to pay.
4 Powerful Content Calendar Tools You Need to Get Organized
The right content calendar tool can help keep you organized, productive, and on track to reach your goals. It also helps you to visualize progress and mark off completed tasks. This tracking is essential to build a sense of accomplishment and forward momentum.
Here are four content calendar tools I recommend:
1. Google Drive + Google Calendar
2. Trello
3. Kanban Flow
4. CoSchedule
Google Drive + Google Calendar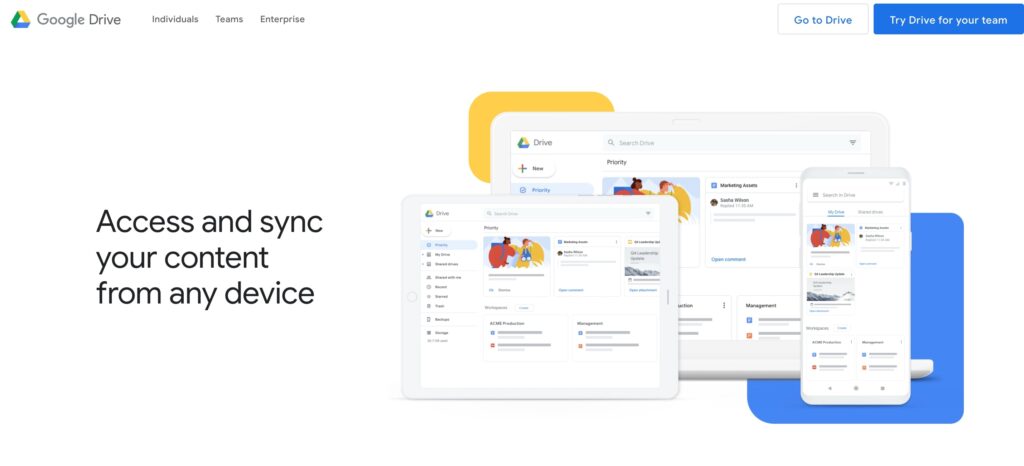 You're probably using Google products daily. Many startups and individual creators find it easy to work with email, scheduling, and content development under one umbrella. This ease of use is what Google Drive and Google Calendar provide. It's easy to schedule meetings and deadlines for content in Calendar and house documents you create within Drive. Since the tools naturally sync, there's no need to change file formats or otherwise tweak content to add it to a calendar task.
Trello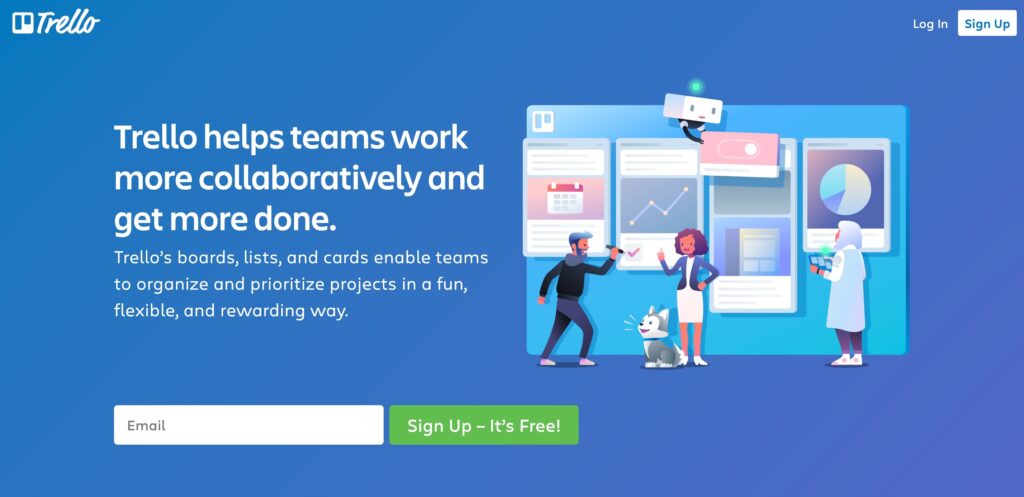 Anyone that's worked in project management or marketing previously is familiar with Trello. The company's brand is essentially a synonym for the Kanban–style of project management.
Their drag-and-drop project boards are great. Free features are everything you need to build a simple content calendar. I'm a visual project manager, so using Trello's boards to manage content creation, personal projects, and daily life is easy and fun. You can make projects as simple as you'd like using the drag-and-drop cards but also have access to enhanced visualization options. Trello's "power-ups" can be purchased individually and are a fantastic way to round out time spent on the platform.
Kanban Flow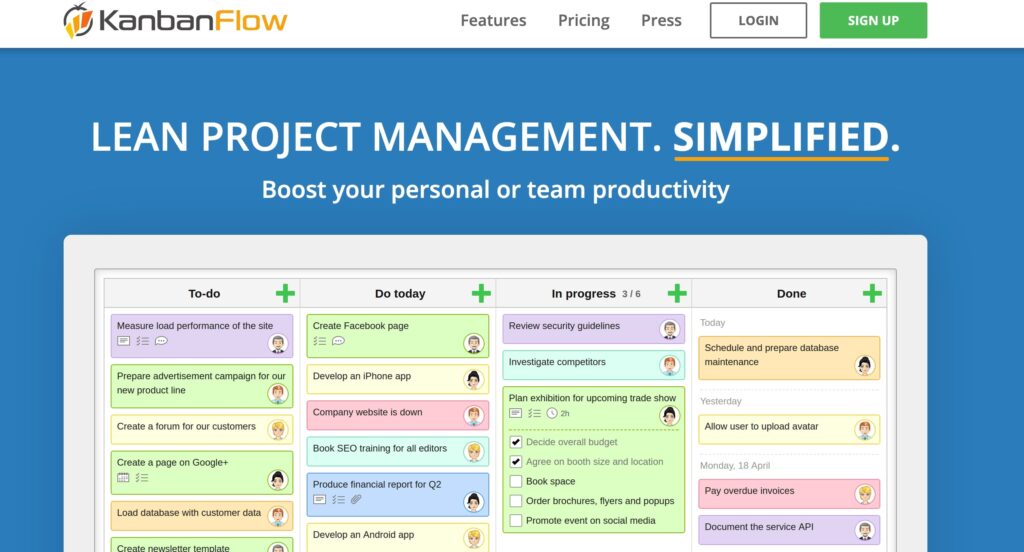 Kanban Flow is a newer entry but has a cool mix of features making it attractive to add to your tool stack. Its boards are colorful, playful, and powerful with a wide variety of customization options.
The ability to add task lists directly to cards and the integrated Pomodoro Technique timers (25-minute blocks requiring full focus) are great. The Pomodoro feature helps you discard separate timer tools like Toggl. Kanban Flow's free version is enough for most users. But if you want to spend a few bucks for more advanced features, it's only $5 a month for a Premium subscription.
CoSchedule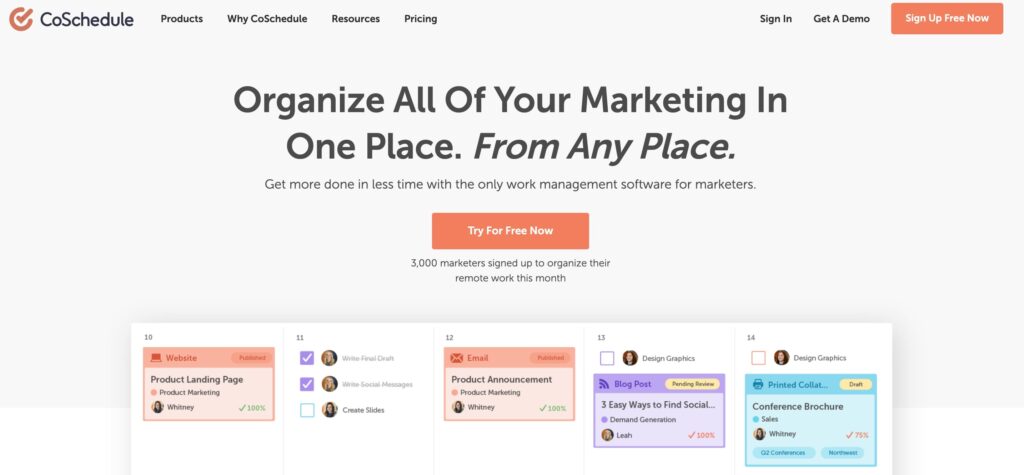 CoSchedule is a scheduling tool at its core. If you have a small team of content creators and social media managers working together, it's a fantastic option.
CoSchedule allows for communication within the platform and minimizes the need for other paid communication tools. Social media managers and content creators can collaborate on deadlines, documentation, and content marketing plans with ease. I can't recommend this tool strongly enough for content teams who operate within WordPress and schedule daily social media posts.
With your tool stack 3/4 of the way built, content marketing tools help complete it.
5 Tools to Help Build Your Audience
Content creation is half the battle. Content promotion and content marketing is the most crucial battle. Without promotion and marketing, your content dies a quiet death in the backend of your website. No one wants that.
Here are five content marketing tools to help build your audience:
1. Canva
2. Ahrefs
3. Hootsuite
4. Woodpecker
5. Google Analytics
Canva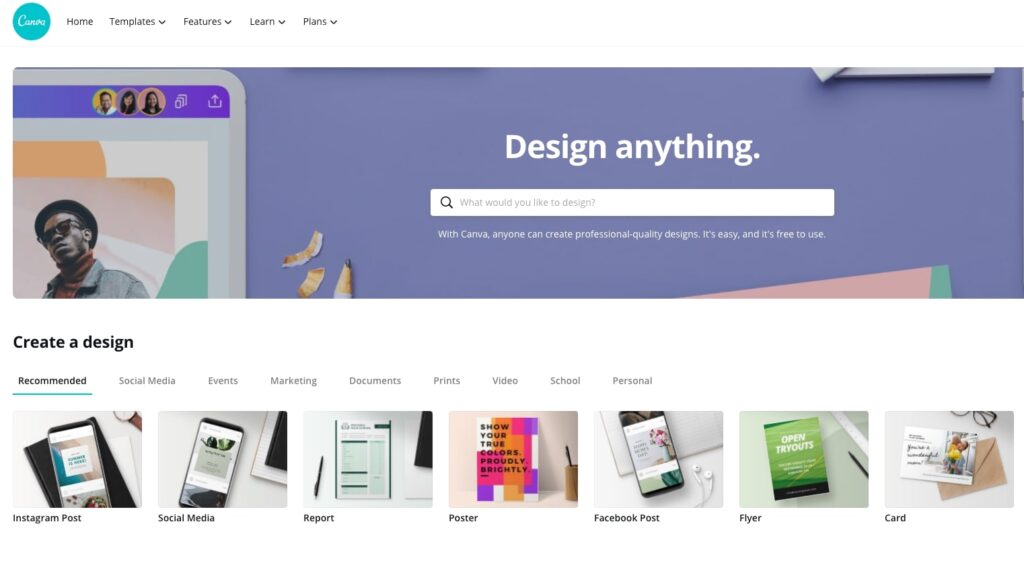 Canva is the best cloud-based graphics creation program available, and it's not close. It's no mystery why the company is a unicorn with a market valuation in the billions.
I'm awful at design. Even for me, Canva makes it easy to create clean and presentable graphics. The majority of assets you need to create infographics for your articles, custom graphics for social posts, logos, and more are free. Some of the graphics developed by Canva's designers are $1.
But, seriously, you can do everything design-wise on Canva without spending a dime. That makes it a no-brainer.
Ahrefs

There are several tools on the market to help with competitive analysis, keyword research, and content gap analysis, but Ahrefs is the winner.
Ahrefs helps you understand which keywords to use when writing. And, what outlets would be open to promoting content when you're marketing it. Reverse engineering what your competition is doing to build your marketing engine is easy. Options include finding opportunities for guest posting, backlinking, and partnerships, which are the foundation of your website's domain authority.
One downside is Ahrefs can be expensive. But, their $7, 7-day trial allows you to get a good feel for the platform. If you end up using it as much as I do daily, the return is worth the investment.
Hootsuite

There's nothing about the Hootsuite user experience that will overwhelm you or cause you to get emotional, but it's solid. Trust me, solid is worth its weight in gold when it comes to social media management platforms. I've tried several, and most are buggy and glitchy. Glitches cause headaches when you're trying to build social media audiences. Hootsuite helps you schedule social posts for different accounts across platforms with ease. It has a built-in link shortener, which is a nice feature when working around platform character limits.
Hootsuite's pricing is reasonable, especially if you're managing several accounts daily. There might be better options available if you're managing an enterprise-level social media program to market content. Check out Sendible or Sprout Social in that scenario.
For the everyday user, Hootsuite is my pick.
Woodpecker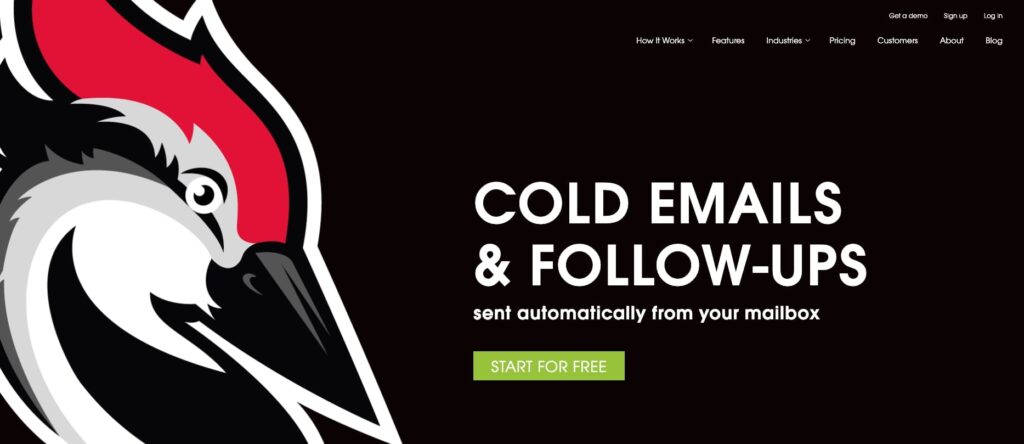 There are a ton of email management tools out there, but Woodpecker is unusual. Their clean, simple platform makes email campaigns — especially those based on several emails triggered by specific actions — easy to execute.
Woodpecker's Hunter.io integration is excellent. It allows you to import email addresses in bulk to build campaign audiences with a few clicks. This feature eliminates heavy lifting that's a pain in the butt with clunkier email management programs.
Woodpecker offers a flexible free trial allowing you to get comfortable with the platform before you commit. Their customer service and support people are awesome to work with. And their basic subscription is $49 a month.
Google Analytics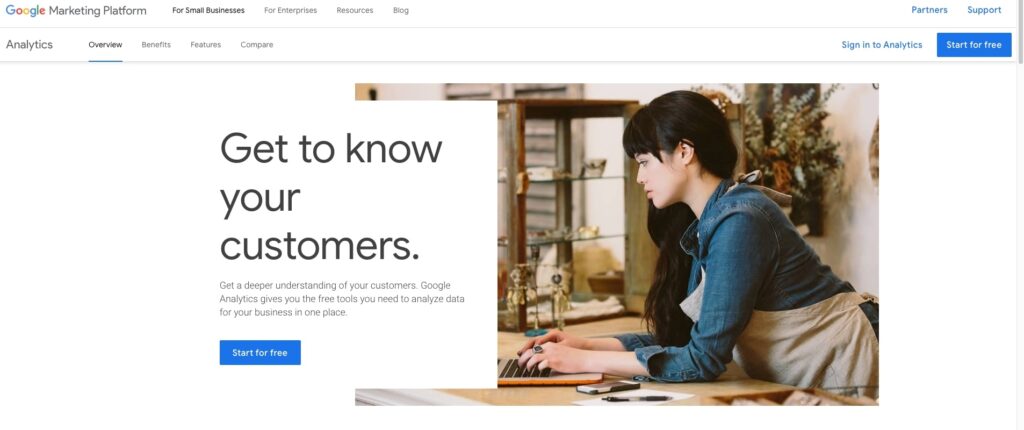 If you're not actively tracking and evaluating traffic, content creation is a wasted effort. Google Analytics enters the picture, here. Anyone serious about building a website that nurtures readers and turns them into interested customers must use GA to its full capabilities.
There's no equal when it comes to measuring what's happening with your website and content marketing. There are other knock-offs available, but none of them allow the depth and breadth of tracking GA allows.
The right content tools make a challenging process less daunting. When content creation is simpler and can follow predictable, repeatable patterns, great results happen.
The suggestions in this article are a great jumping-off point to build a powerful content tools stack. Regardless, it's vital to do your own due diligence to find the tools that are right for how you like to work.