Competitive analysis of your niche is one of the most critical due diligence activities you'll do when plotting how to start a blog or re-shaping your blog into one with profit potential.
Trying to compete in a uber-competitive niche is like paddling upstream without a paddle. The results from the work you'll put in on content strategy will be negligible, and beyond that, it'll be tedious.
Some great tools make evaluating competition relatively easy.
It's true even if it's not an exercise you've done previously.
Let's take a closer look at these tools and a walk-through of the process.
How to Complete a Competitive Analysis
Conducting a thorough competitive analysis will help you to understand the players in your niche.
And, how you can best approach content to help you differentiate and have a decent shot to make money blogging.
Here are the steps to take in evaluating competitors:
Examine your competitions' domain authority and uncover their content marketing strategy and core keywords.
Evaluate these keywords to determine:

The global search volume for the keyword(s) monthly and their level of keyword difficulty
How many backlinks would be needed to be "visible" for the keywords you're considering to chase

Identify content gaps between what you are creating – or have already created – and your competition to attract a new audience
Let's take a look at each of these in detail.
Evaluating Domain Authority and Content Strategy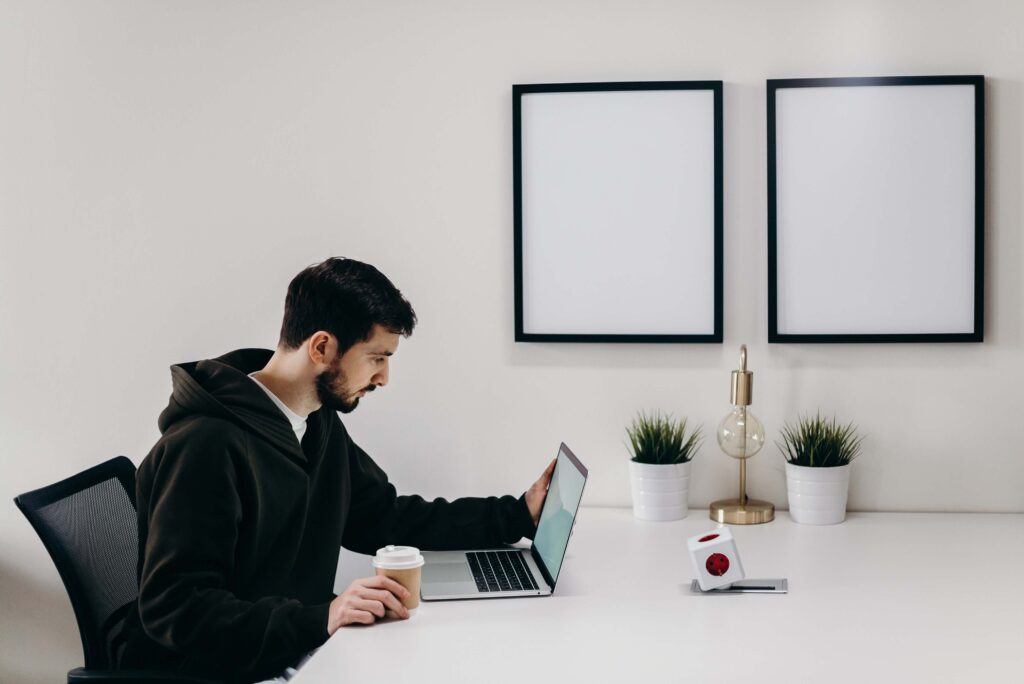 A site's domain authority (DA) is a score predicting how well a website will rank overall on the Search Engine Results Pages (SERPs). SERPs are the results you see when you search for something on one of the major search engines.
Domain authority is on a scale from 1-100.
A site with a 0 domain authority hasn't yet published any content or gotten any backlinks to their published content.
Sites with a 99 DA are mega-powerhouses.
Think the Googles, Facebooks, and Twitters of the world. They're 99s.
You can use a site like Ahrefs or Moz to evaluate DAs as you're doing a competitive analysis. A majority of websites have a DA somewhere between 30-60.
If you're checking out a niche where most blogs and websites have a 60 or higher DA, there's a steep barrier to entry.
It's going to be very difficult to gain traction and develop traffic to your site. However, if most sites are closer to 35, it's a good signal; a deeper dive is worth it to see what the keyword landscape tells you.
Keyword Competitor Analysis
Next, do a keyword competitive analysis if you're ok with the difficulty level of competing in your niche.
Ahrefs is also a great place to do this work. It's simple to search for the keywords in which you're interested. Ahrefs will provide a keyword difficulty score (KD) from 1-100, similar to DA.
The higher this KD, the more difficult – in general – it would be for content focused on those keywords to rank in the SERPs. If most of the keywords have a 35 or less KD, then you're in decent shape.
You also want to consider the Global Search Volume (GSV) for the keywords you're considering. It's a good rule of thumb that your keywords have at least a GSV of 1,000 or better to be worth chasing.
If the keyword set you'll be writing around has a 35 or less KD on average, and a GSV of 1,000 or better, you could have a winner!
The Link Building Competitive Landscape
When doing a niche competitive analysis, the final consideration is how difficult it will be to build backlinks to your blog. Domain authority principles apply here as well.
The higher a blog or website's DA, the more bloggers pitch them for guest blogging opportunities or direct links. When you're just starting, it's best to target sites with a 30-60 DA for your link building efforts.
Things start to get much more challenging around 60 DA.
Link building as part of a content marketing strategy is an effort in incremental growth. As your own blog's DA starts to grow, the DA of sites you should target changes.
Like many things in blogging, you have to crawl before you can walk.
The more backlinks you drive from sites, the more your DA will grow. As your DA grows, you'll be more competitive in your niche, and have a better chance to show up more often in Google.
With better search position, you'll earn more traffic.
Organic traffic increases open the door to conversions and making your business dreams a reality!
Knowing what content to create first is vital. This knowledge comes from an informed process, however. Flying blind is no way to fly.
Dig in and do a content gap analysis to identify accessible, initial opportunities for success.
How to Do a Content Gap Analysis
A content gap analysis allows you to see what for which topics your direct competitors are ranking. And, also, where you have an opportunity to make up some ground against them.
Using a tool like Ahrefs, you can get a firm idea of where your competitors have a foothold and opportunities.
Here's an example, using a few well-known sites in the project management space: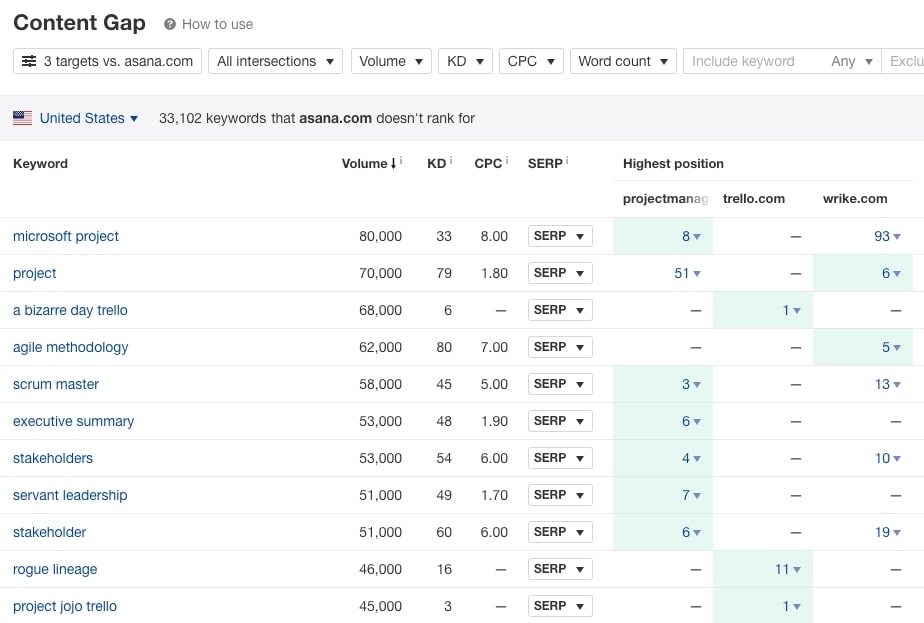 In this example, if you're Asana, there's an opportunity to compete for "microsoft project" as only one of your competitors is doing much with it, it has a huge search volume, and reasonable keyword difficulty.
If there are low competition keywords with a high global search volume your competition is not writing about, these are quality chances to steal some traffic.
A thorough competitive analysis including a content gap analysis can generate good content ideas to keep you busy.
Why Competitive Analysis Matters
Doing a thorough competitive analysis of your niche is one of the most vital activities you can complete as a blogger.
Jumping headfirst into deep water without doing due diligence first can lead to heartbreak.
Do your keyword research, understand what it will take to build links in your niche, and do a thorough content gap analysis.
You can make a confident decision about pursuing your niche – or not – informed by hard numbers and the reality of your competition.
This confident decision can be the difference between getting off to a fast start and early struggles which could delay progress!